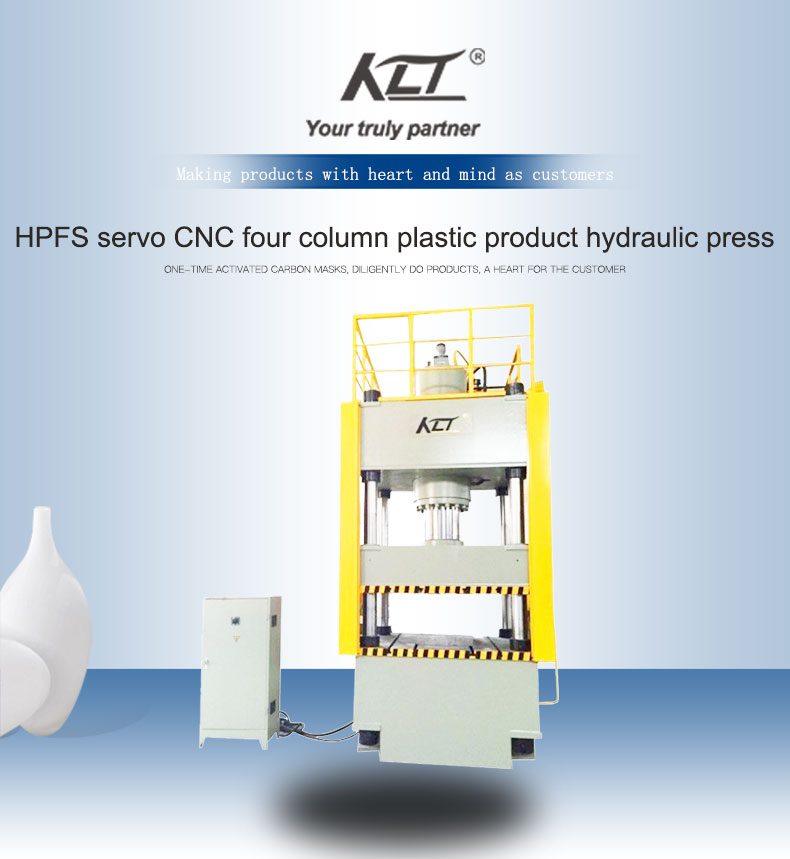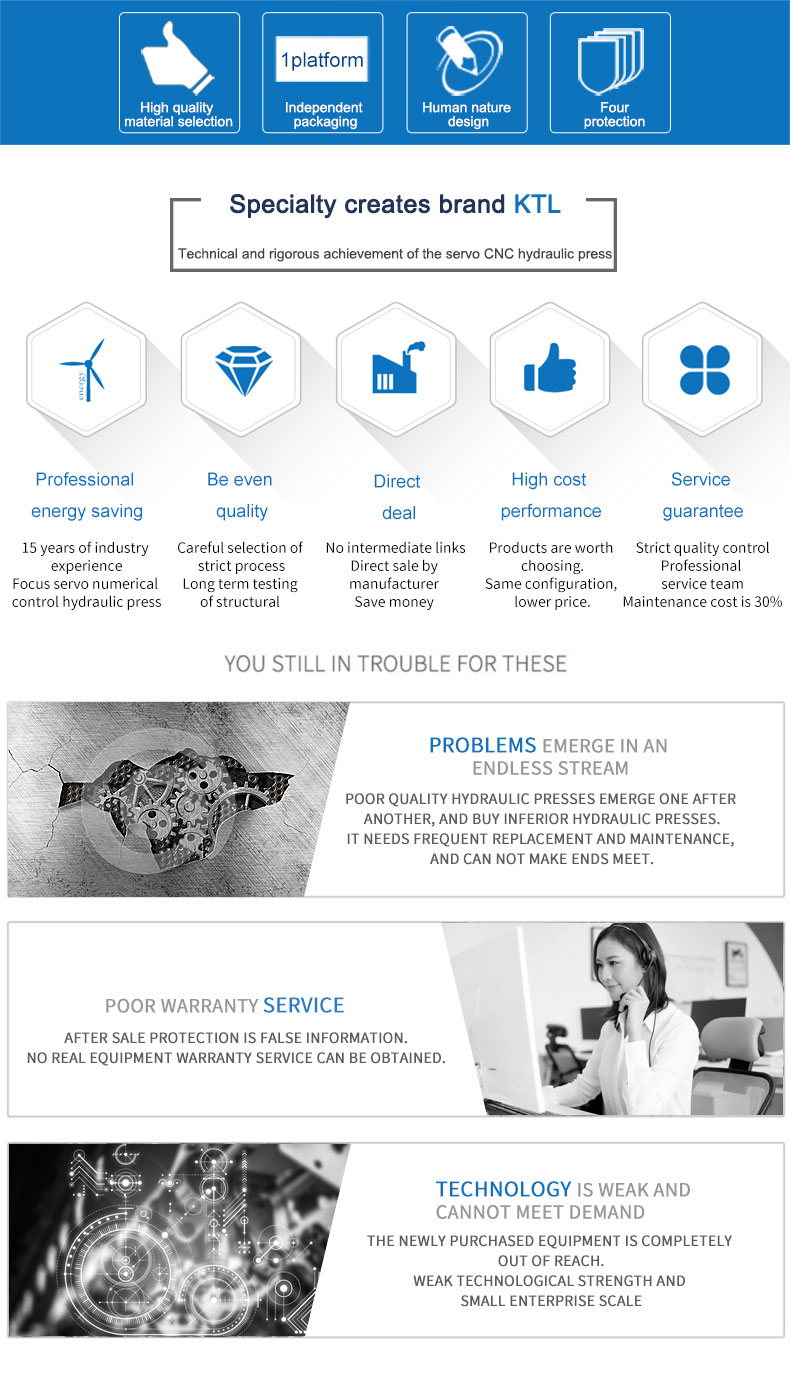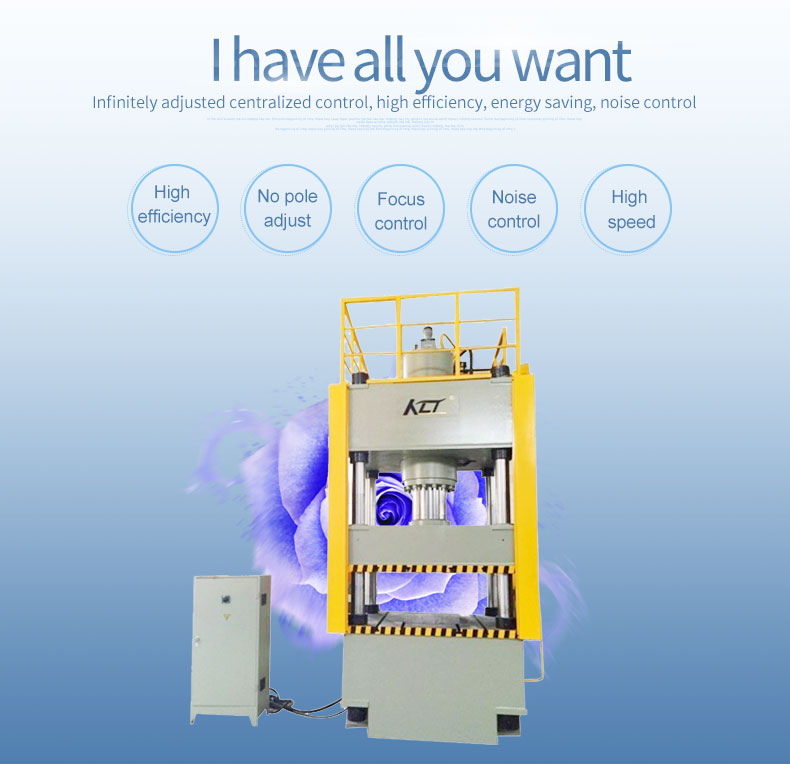 1. A new generation of CNC hydraulic presses, four-column guided body steel plate welding. Applicable technology, SMC.DMC.BMC plastic products molding.
2. It is suitable for medium-sized parts in the automotive, yacht, hardware, aviation, electronics, electrical and other industries.
3, servo motor with high-precision oil pump drive segmentation control pressure, speed, exhaust.
4, PLC programming, touch screen display, control.
5, displacement, speed, pressure sensor precision control, arbitrary adjustment on the industrial touch screen.
6, provide remote network services, the machine automatically alarms to indicate failure and maintenance.

1, high efficiency and energy saving, electricity consumption is 30%-50% energy saving than ordinary motors.
2, low noise, noise can be controlled at about 60 decibels.
3, working position, speed, pressure can be adjusted infinitely.
4, rapid response, pressure, position repeatability is high.
5, high efficiency, multiple protection inside, the failure rate is extremely low.
6, 12 hours of continuous work does not require cooling oil temperature.
7. Pipes and joints adopt SEA international standards to prevent oil leakage from pipes.
8, using button centralized control, (fixed / constant pressure) two control methods, (adjustment / automatic) two modes of operation.
9, European CE standard hydraulic system and electrical safety IP54 grade.

Servo CNC four-column plastic products hydraulic press is mainly used for pressing thermoplastic materials, mainly used for CFRP, SMC, BMC, DMC, GMT, LFTD, etc.
Compression molding of composite materials, products are widely used in aviation, railway, automotive, marine, petrochemical, electrical, daily necessities and other industries.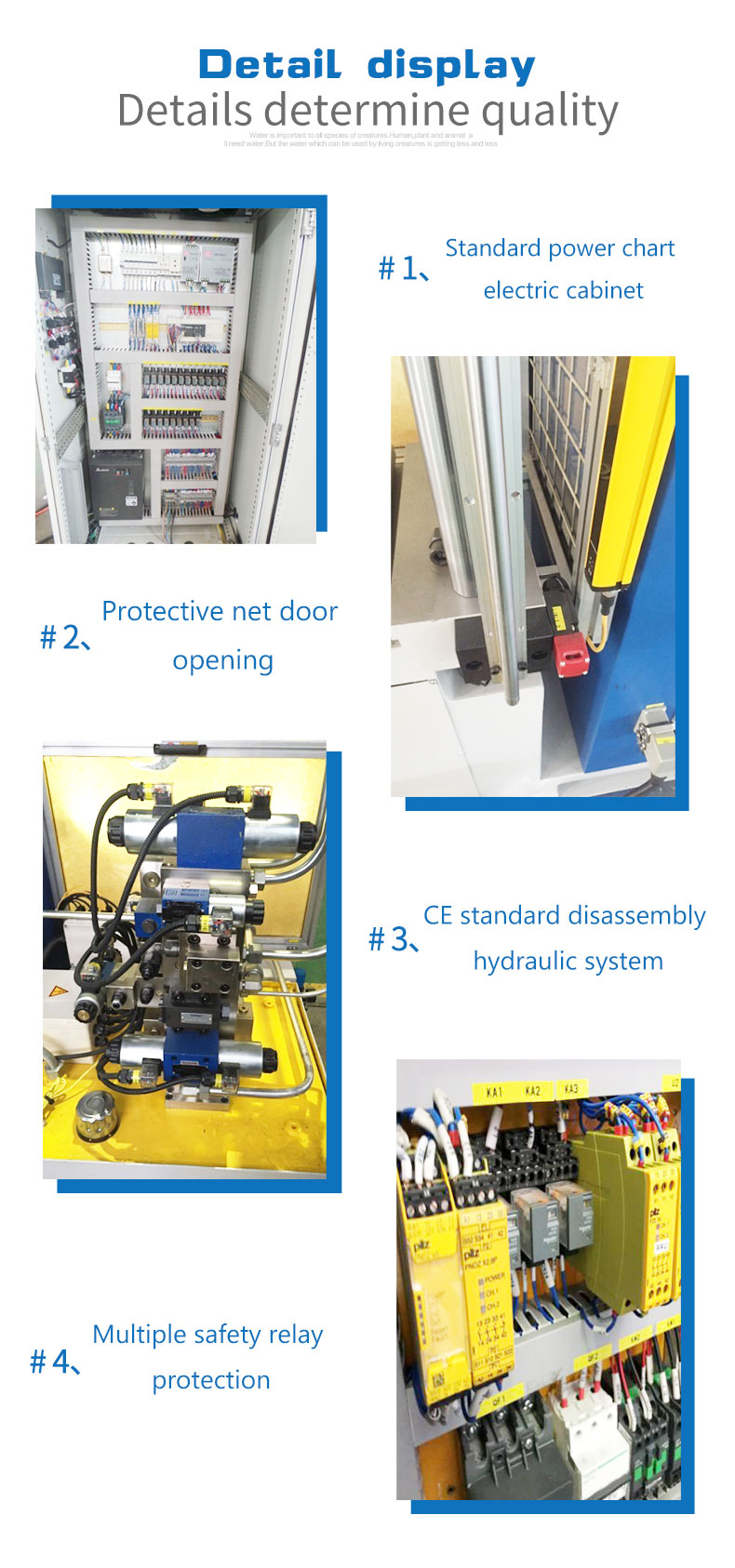 Parameter table
| | | | | | |
| --- | --- | --- | --- | --- | --- |
| name | Cylinder pressure | eating plate size( mm) | Motor Power | Fast down speed | Working pressure |
| model | Optional | Optional | KW | MM/S | MM/S |
| HPFS-60T | 10T | 500x500 | 15 | 60 | 3-30 |
| HPFS-100T | 10T | 700x580 | 15 | 70 | 3-20 |
| HPFS-160T | 25T | 800x800 | 18.5 | 80 | 3-17 |
| HPFS-200T | 25T | 900x900 | 22 | 80 | 3-16 |
| HPFS-250T | 25T | 900x900 | 22 | 80 | 3-13 |
| HPFS-300T | 40T | 1300x1200 | 29 | 120 | 5-13 |
| HPFS-400T | 40T | 1400x120 | 28.3 | 150 | 5-16 |
| HPFS-500T | 60T | 1700x1300 | 29 | 150 | 5-16 |
| HPFS-600T | 60T | 1800x1400 | 40 | 300 | 5-17 |
| HPFS-800T | 100T | 1800x1500 | 40 | 300 | 5-14 |
| HPFS-1000T | 100T | 2000x1500 | 45 | 350 | 5-12 |
| HPFS-1500T | 200T | 3000x2000 | 45 | 350 | 5-10 |
name

main tank

Quantity

Maximum draft force

Working

Pressure

Number of master

cylinders

Maximum draft

force

model

MM/S

MM/S

MPA

只

KN

HPFS-60T

10-20

107

25

1

194

HPFS-100T

6-20

66

25

1

305

HPFS-160T

8-20

85

25.5

1

318

HPFS-200T

7-20

70

25

1

470

HPFS-250T

10-20

84

25

1

410

HPFS-300T

7-20

70

25

1

596

HPFS-400T

5-20

80

25

1

834

HPFS-500T

6-20

110

25.5

1

768

HPFS-600T

7-14

145

25

3

720

HPFS-800T

6-13

130

25

3

820

HPFS-1000T

5-15

110

25

3

1200

HPFS-1500T

5-20

110

25

3

1520
name

Ejecting

speed

Return

speed

Ejection

trip

Table top

left and right

size (effective)

After the

front size

(effective)

Opening

height

Cylinder

stroke

weight

model

MM/S

MM/S

mm

mm

mm

mm

mm

T

HPFS-60T

16-54

79

200

500

500

700

500

4

HPFS-100T

7-67

98

200

710

580

900

500

5

HPFS-160T

8-43

63

250

800

800

900

500

7

HPFS-200T

8-43

63

250

900

900

1000

700

8.5

HPFS-250T

8-43

63

300

900

900

1000

700

8.5

HPFS-300T

10-54

110

300

1300

1200

1200

800

17.5

HPFS-400T

10-54

110

300

1400

1200

1300

800

19

HPFS-500T

6-65

120

350

1700

1300

1200

900

25

HPFS-600T

6-65

120

350

1800

1400

1300

900

40

HPFS-800T

7-55

70

350

1800

1400

1300

900

45

HPFS-1000T

7-55

70

350

2000

1500

1600

1000

70

HPFS-1500T

5-40

94

400

3000

2000

1600

1000

120