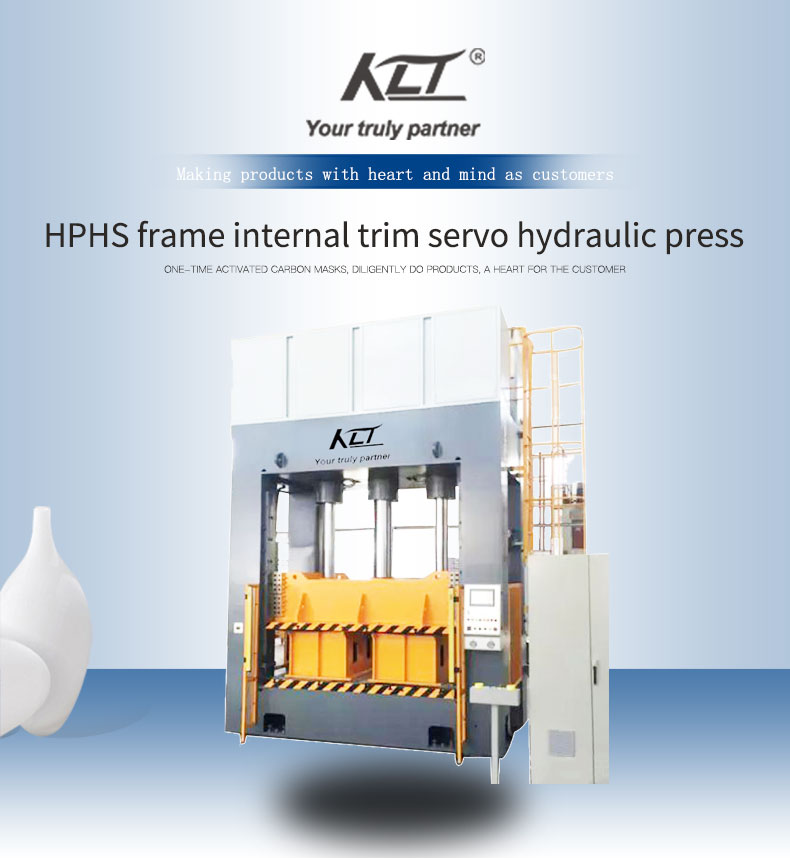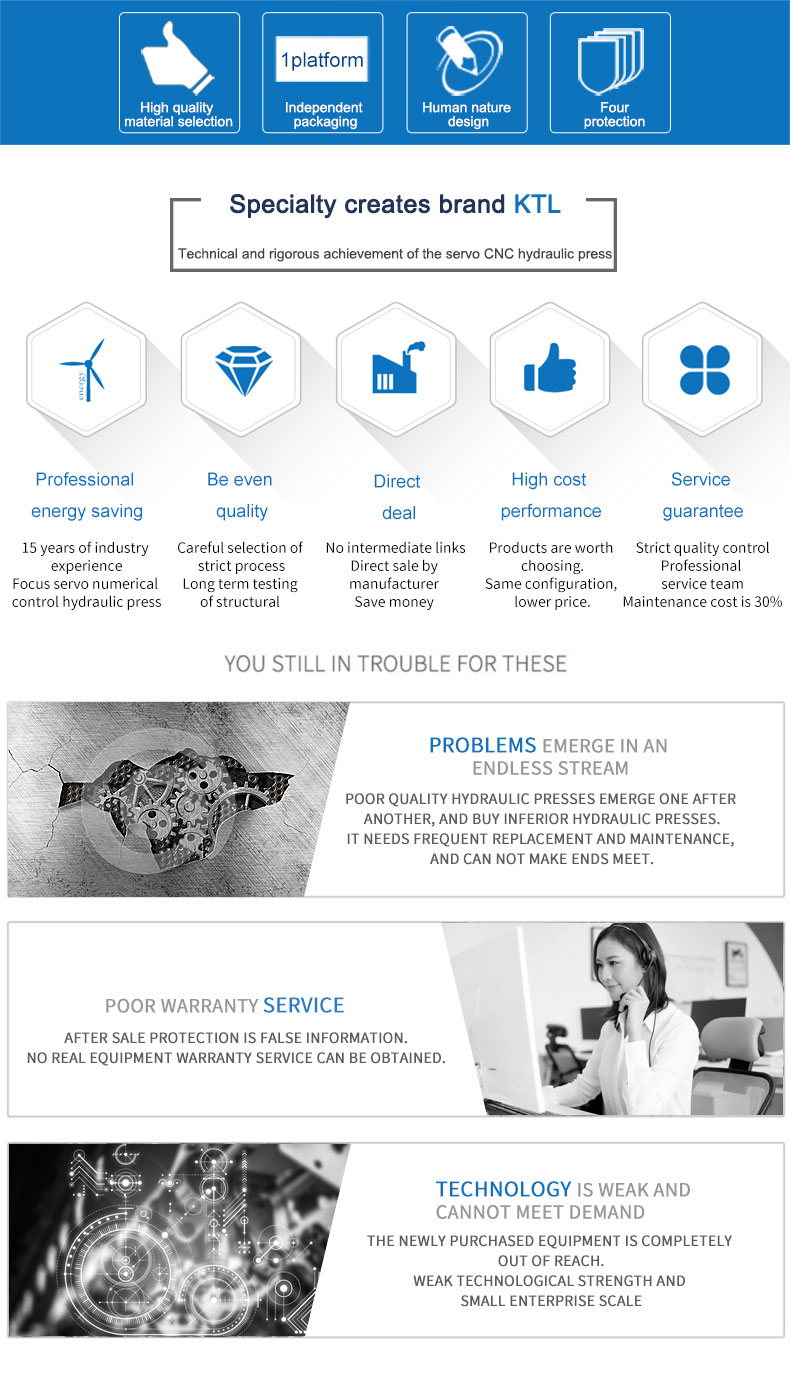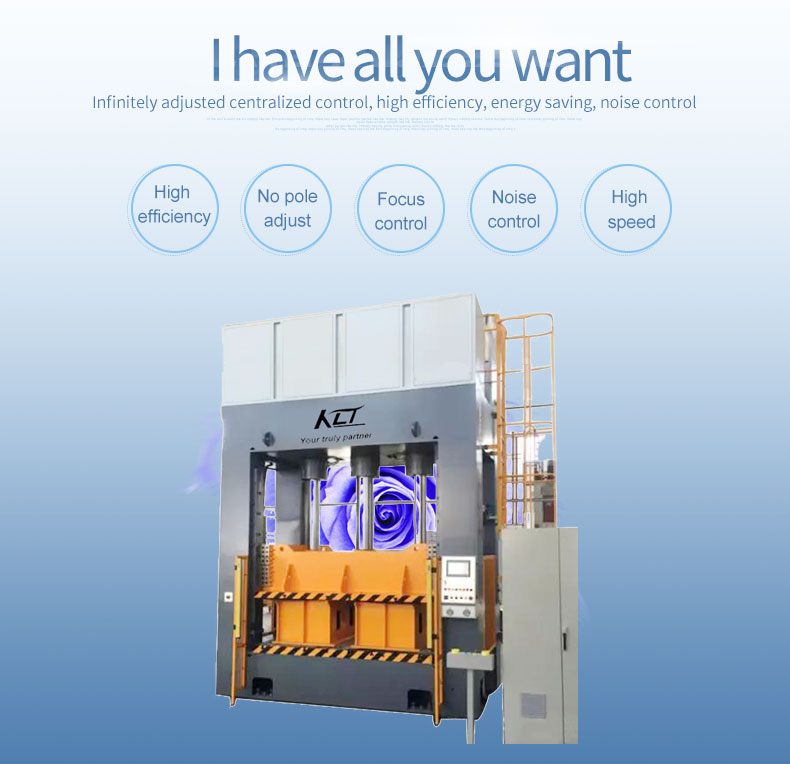 1, the new generation of numerical control hydraulic press, the frame eight face guiding structure. Suitable technology, hot pressing for automotive interior parts.
2. Suitable for automobile roof, trunk, seat back-to-back, clothes rack, wheel shield, sunshade, hood heat insulation cushion and other parts.
3, servo motor with high precision oil pump drive segment control pressure, speed, exhaust.
4, PLC programming, touch screen display, control.
5, displacement, speed, pressure sensor precision control, arbitrary adjustment on the industrial touchscreen.
6, provide remote network services, machine automatic alarm, prompt failure and maintenance.
7. It is suitable for trimming and compound forming of automotive interior parts.

1. High efficiency and energy saving. The power consumption is 30%-50% more than that of ordinary motors.
2, low noise, noise can be controlled at around 60 decibels.
3, the working position, speed and pressure can be adjusted by infinitely.
4. Quick response, pressure and high repeatability.
5, high efficiency, multiple protection inside, low failure rate.
6 and 12 hours of continuous work do not require cooling oil temperature.
7, pipes and joints adopt SEA international standard to prevent oil leakage.
8. Adopt the button centralized control, (fixed range / fixed pressure) two control modes, (adjustment / automatic) two operation modes.
9, European CE standard hydraulic system and electrical safety IP54 grade.

Suitable for: automotive interior decoration industry involves, specially used in automotive interior decoration products of various types of hot-pressing molding and cutting edge process.

Parameter table
Interior part name

Car front wall

Luggage

assembly

Spare cover

Wheel

housing

Mode

Name

Unit

250T

300T

200T

300T

200T

300T

150T

200T

300T

Nominal force

KN

2500

3000

2000

3000

2000

3000

1500

2000

3000

Maximum opening

distance

mm

1400

1800

1800

1800

1200

1400

1600

1600

1600

Hydraulic cylinder stroke

mm

1200

1600

1600

1600

1100

1200

1400

1400

1400

working desk size

L.R

mm

1900

2000

1900

2600

1900

2400

2400

2600

2600

F.B

mm

1300

1400

1300

2200

1300

1800

1500

1500

1500

Slider

Fast down

speed

mm/s

300

300

300

300

300

300

300

300

300

Speed of work

mm/s

10-30

10-30

10-30

10-30

10-30

10-30

10-30

10-30

10-30

Fast return

speed

mm/s

150

150

150

150

150

150

150

150

150
Interior part name

ceiling

carpet

Seat back

Coat rack

Model

Name

Unit

200T

300T

500T

300T

400T

200T

300T

250T

300T

Nominal force

KN

2000

3000

5000

3000

4000

2000

3000

2500

3000

Maximum opening

distance

mm

1400

1600

1700

1600

1800

1500

2200

1400

1800

Hydraulic cylinder

stroke

mm

1200

1400

1500

1400

1500

1300

1500

1000

1600

working

desk size

L.R

mm

3000

3400

4000

2400

2400

2400

2400

2000

2400

F.B

mm

2000

2000

2400

1800

1800

1800

1800

1400

1800

Slider

Fast down speed

mm/s

300

300

300

300

300

300

300

300

300

Speed of

work

mm/s

10-30

10-30

10-30

10-30

10-30

10-30

10-30

10-30

10-30

Fast return speed

mm/s

150

150

150

150

150

150

150

150

150